News
Unleashing the Heat: STICKZ Sets the Stage Ablaze in Bando Baby Tracksuits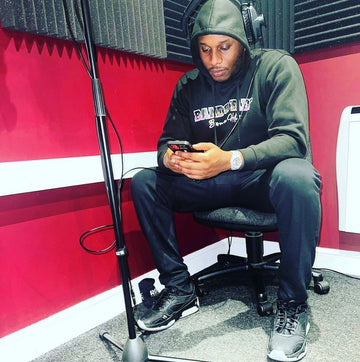 Introduction:
Welcome to the official blog of Bando Baby, where we take immense pride in spotlighting the incredible talent that our clothing brand has had the privilege to collaborate with. Today, we are thrilled to share the remarkable journey of London's very own drill rapper, STICKZ. Not only has he captivated millions with his viral hit "We Don't Dance" featuring M24, but he has also become an iconic figure in the music scene, sporting our iconic "Toy Blocks" and "Born a Hustler Flames" tracksuits.
STICKZ: The Drill Rap Sensation:
Hailing from the vibrant streets of London, STICKZ has taken the music world by storm with his bold and uncompromising style. With an impressive 41 million views and counting on his chart-topping track "We Don't Dance" with M24, STICKZ has established himself as one of the most exciting drill rappers of our time. His raw talent and charismatic delivery have captivated fans worldwide, making him a force to be reckoned with.
Unleashing the Iconic Tracksuits:
We take great pride in creating unique and standout designs that resonate with artists and fans alike. STICKZ, an artist known for his distinctive fashion sense, has chosen to rock our iconic "Toy Blocks" and "Born a Hustler Flames" tracksuits, elevating his stage presence to new heights. Embodying both style and substance, these tracksuits perfectly complement STICKZ's dynamic persona, allowing him to make a bold statement wherever he performs.
A Fusion of Music and Fashion:
The collaboration between BandoBaby & STICKZ represents the seamless fusion of music and fashion. Just as STICKZ's lyrics and beats ignite the streets, our tracksuits ignite the fashion world, creating a powerful synergy between the two art forms. This collaboration serves as a testament to our dedication to supporting emerging artists and pushing creative boundaries.
Embracing the Hustler Mentality:
STICKZ's meteoric rise to stardom is a testament to his relentless hustle and unwavering determination. His music resonates with those who have experienced the trials and tribulations of the streets, urging them to rise above and thrive against all odds. The "Born a Hustler Flames" tracksuit worn by STICKZ embodies this mentality, symbolizing the indomitable spirit of those who refuse to be confined by circumstances.
Conclusion:
We are honored to have collaborated with STICKZ, a visionary artist who embodies the essence of our brand. With his fiery tracksuits and undeniable talent, STICKZ has etched his mark on the music scene, creating a wave of inspiration for aspiring artists and fashion enthusiasts alike. We invite you to join us on this exhilarating journey as we celebrate the remarkable talent of STICKZ and the future collaborations that lie ahead. Together, we will continue to push boundaries embrace self-expression, and ignite the world with our passion for music and fashion.