News
Sho Shallow: The Streetwise Rapper Rocking Bando Baby Streetwear!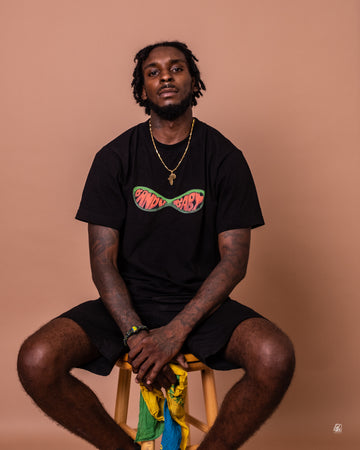 We are thrilled to announce an incredible partnership between the talented rapper Sho Shallow and our streetwear brand, Bando Baby! Known for his dynamic collaborations with fellow rapper Ard Adz, Sho Shallow has become a prominent figure in the music industry, captivating audiences with his street-wise rapping sensibility.

Before rising to fame, Sho Shallow embarked on his musical journey at the young age of 15, alongside his friend Ard Adz. Growing up together, they honed their skills and paved their way in the music scene, leaving an indelible mark on the industry.

One of Sho Shallow's defining characteristics is his commitment to bringing authenticity and "realness" to his raps. His lyrics are not only complex but also carry deep meaning, resonating with his audience on a profound level. Through his music, he shares his personal experiences, struggles, and triumphs, connecting with fans who appreciate the raw emotions and stories behind his words.

Hailing from the vibrant Brixton district of London, England, Sho Shallow embodies the spirit of the streets and proudly represents his roots. It is this genuine connection to the streets that makes our collaboration with him so special. Like our brand, Sho Shallow embraces the hustle and determination it takes to succeed, and his lyrics reflect the resilience and ambition of the Bando Baby ethos.

As we join forces with Sho Shallow, we are excited to support each other and create a powerful synergy between his music and our streetwear. Seeing him rock Bando Baby clothing is a true testament to our brand's authenticity and its ability to resonate with individuals who share the same values.


Stay tuned for exclusive releases, limited edition collaborations, and exciting updates as we embark on this thrilling journey with Sho Shallow. Together, we will continue to push boundaries and empower individuals to express themselves fearlessly through our cutting-edge streetwear.

Join us in celebrating this incredible partnership and embrace the streetwise style of Sho Shallow, as he takes the music industry by storm and proudly represents the Bando Baby movement. Together, we will conquer the streets, one beat, and one stylish outfit at a time!