News
Spine-Chilling Collaboration: Shredz x BANDO BABY LAB 51 'Ghosts' Behind the Scene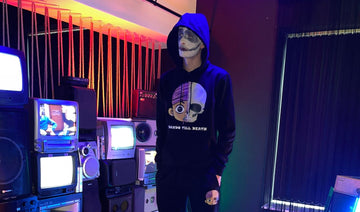 Welcome to our clothing brand's blog, where we are thrilled to share an electrifying collaboration between our brand and the exceptionally talented British rapper, producer, and songwriter, Lawrence Sykes, known by his stage name Shredz. Renowned for his dark and introspective songwriting, Shredz has fearlessly delved into his life experiences from a young age, earning recognition from American hip hop magazine VINM. Join us as we delve into Shredz's captivating musical journey and the exhilarating behind-the-scenes details of our recent collaboration on his latest release, "Ghosts."
Shredz: Dominating Manchester's Music Scene
Over the past five years, Shredz has captivated the music scene in his hometown of Manchester, UK, with an impressive repertoire of consistent, hard-hitting hits. Drawing inspiration from his own life experiences, Shredz's music showcases his intricate lyricism and compelling storytelling, leaving an indelible mark on his listeners. This unwavering dedication to his craft has established him as a prominent figure in Manchester's vibrant musical landscape.
"Ghosts": A Hair-Raising Collaboration
We are immensely proud to announce our recent collaboration with Shredz on his bone-chilling track, "Ghosts." In this exciting partnership, we have incorporated an exclusive and previously unreleased Bando Baby Halloween design that perfectly complements the eerie ambience of the song. As "Ghosts" takes center stage on the Lab51 channel, we are honored to have contributed to this project, seamlessly blending the realms of music and fashion.
Don't miss out on our special Halloween offer: Use code SHREDZ10 for £10 off the Bando Till Death clothing. 
Behind the Scenes of the Collaboration
Collaborating with Shredz on this project has been an exhilarating journey. From the initial conception to the final execution, we have witnessed Shredz's unwavering passion and commitment to his music. Our collaboration involved handpicking a Halloween design from our exclusive Bando Baby collection, which flawlessly captures the essence of "Ghosts" while reflecting the unique style of our clothing brand. The outcome is a visual representation that impeccably complements the haunting lyrics and captivating melody of the track.
Conclusion
Shredz's riveting approach to music, inspired by his personal experiences, has propelled him to the forefront of Manchester's music scene and beyond. Our recent collaboration on "Ghosts" has seamlessly merged the worlds of music and fashion, creating an unforgettable experience for fans. Stay tuned for the release of "Ghosts" on the Lab51 channel, where you can immerse yourself in Shredz's haunting visuals and witness the powerful union of his artistry and our fashion brand. We are honored to have collaborated with such an exceptional artist and eagerly anticipate future projects that continue to push boundaries and ignite creativity in both the realms of music and fashion.