News
Milly 95: A Rising Rapper with Raw Talent and Bando Baby Style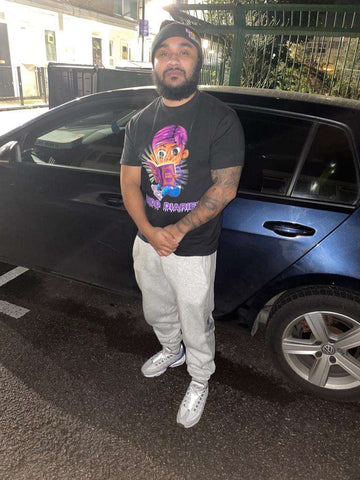 Introduction:
Welcome to the official blog of Bando Baby, your go-to destination for urban streetwear. Today, we are excited to shine a spotlight on the talented rapper, Milly 95, who not only supports our brand but also showcases our clothing with style and swag. With his incredible lyricism and collaborations with artists like Ard Adz, Milly 95 has garnered hundreds of thousands of views, making him a rising star in the music industry.

Milly 95: The Lyricist with a Unique Voice:
Hailing from the heart of the urban music scene, Milly 95 has emerged as a dynamic rapper with an unmistakable talent for storytelling through his lyrics. Songs like "House of Pain" and "OK" have showcased his ability to craft catchy hooks and thought-provoking verses that resonate with his audience. Milly 95's unique voice and raw delivery set him apart, making him an artist to watch in the industry.

Bando Baby: The Perfect Blend of Style and Substance:
At Bando Baby, we pride ourselves on creating clothing that not only looks stylish but also reflects the essence of urban culture. Milly 95, a true connoisseur of streetwear, has embraced our brand, wearing our clothing with pride and authenticity. Our brand's aesthetic and designs perfectly align with Milly 95's personal style, making Bando Baby the go-to choice for artists who want to express their individuality and embrace their urban roots.

Collaboration with Ard Adz: A Testament to Milly 95's Talent:
Milly 95's collaborations with fellow artist Ard Adz have further solidified his presence in the music scene. These collaborations highlight his ability to seamlessly blend his unique style with that of other talented artists, creating a harmonious fusion of voices and showcasing his versatility as an artist. Milly 95's support for Bando Baby during these collaborations has helped to amplify our brand's influence and reach a wider audience.