News
Breaking News: Top Boy Star Jason Rocks Bando Baby Streetwear!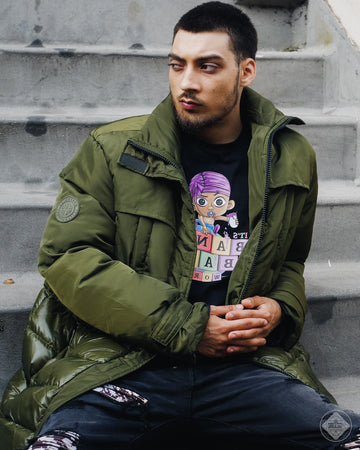 We are bursting with excitement to share a major accomplishment with all our Bando Baby fans and streetwear enthusiasts out there! Our brand has made its way onto the small screen, adorning the charismatic character Jason in the Netflix smash hit series, "Top Boy". This gripping show has captivated audiences not only in the UK but across the globe.

We had the incredible opportunity to connect with the talented actor, Ricky Smart, who flawlessly portrays Jason in both the first and second series. As we delved into his character's journey, we discovered a striking resonance between Jason's role and the essence of our brand - the slogan "born a hustler". Ricky Smart shared his passion for the concept of "making something from nothing," which perfectly aligns with the spirit of Bando Baby.


Seeing our clothing brand showcased on such a widely acclaimed platform is an achievement we are immensely proud of. It is a testament to the dedication and hard work we put into creating unique streetwear that resonates with individuals who strive to overcome obstacles and seize opportunities.

We believe that fashion is more than just material; it is a form of self-expression and empowerment. By dressing Jason in Bando Baby, we aimed to embody the essence of his character, capturing his determination, resilience, and street-smart style. It's an honor to have our brand associated with such a captivating character and a groundbreaking series like "Top Boy".

This exciting collaboration between Bando Baby and Ricky Smart has opened doors to a new wave of creativity and inspiration. We are committed to pushing boundaries and continuing to deliver streetwear that authentically represents the hustle and determination within us all.


Join us in celebrating this incredible milestone and stay tuned for more exciting updates, exclusive releases, and collaborations that showcase the essence of street culture and the Bando Baby spirit. Together, let's make something from nothing and conquer the world, one stylish step at a time!